FAQ/ HELP SECTION
What is Guranteed Fast Color Turban ?
Our Turbans are Fast Color Turbans, means they have long Color life and don't fade(patches) easily. When wash with care our Turbans have best color life available in the market.
Whats the standard size of turban ?
It is different for everyone. But approx standard size is 7.5 meters and you get approx 6 folds or pleats. Also it is advisable to take 10-15 cm extra than the recommended size(optional)
Which size is best for me ?
It depends upon your body and face. Standard sizes (approx) are:
5.5m or plus - 4 folds
6.5m or plus- 5 folds
7.5 m or plus- 6 folds
8.5m or plus - 7 folds
Please note above are approximates only , may be different for different persons
What is the best way to wash Turbans ?
The best way to wash each turban separately in cold water. Always use liquid detergent or hair shampoo. Color may bleed which is normal but grace of colour will be the same.
Which Turban Suits Me Best ?
It depends upon your taste and preferences. If you want light weight fabric then you can choose full voile as it is the most opted by customers. If you want a medium weight fabric which is not lighter like full voile but not too much heavy like Rubia/Rubia heavy then you can choose Rubia medium . If you want most heavy stuff then Rubia Heavy is for you. If you want lightest fabric lighter than full voile then simple/half voile is good for you. Malmal F74 is the extreme light even lighter than simple/half voile recommended if you want to tie round turban also known as dumala. For more info and assistance reach at support@adarshvoilehouse.zohodesk.com
Do you serve Bulk Orders ?
Do you make customized Rumala & Chandoa Saheb ?
Yes of course, we will make Rumala & Chandoa Saheb on special order for almost all Gurudwara Saheb around the world. Please mail us at
support@adarshvoilehouse.zohodesk.com
or reach at +919876679013.
Whats your cancellation policy ?
Whats your return/refund policy ?
You can check your order status in your mail id you've shared when placing your order & track returns, refunds , shipping status of your orders . You can also login to your account and click on orders page and check your status & for more info mail at support@adarshvoilehouse.zohodesk.com.
Why the ends of turban not straight ?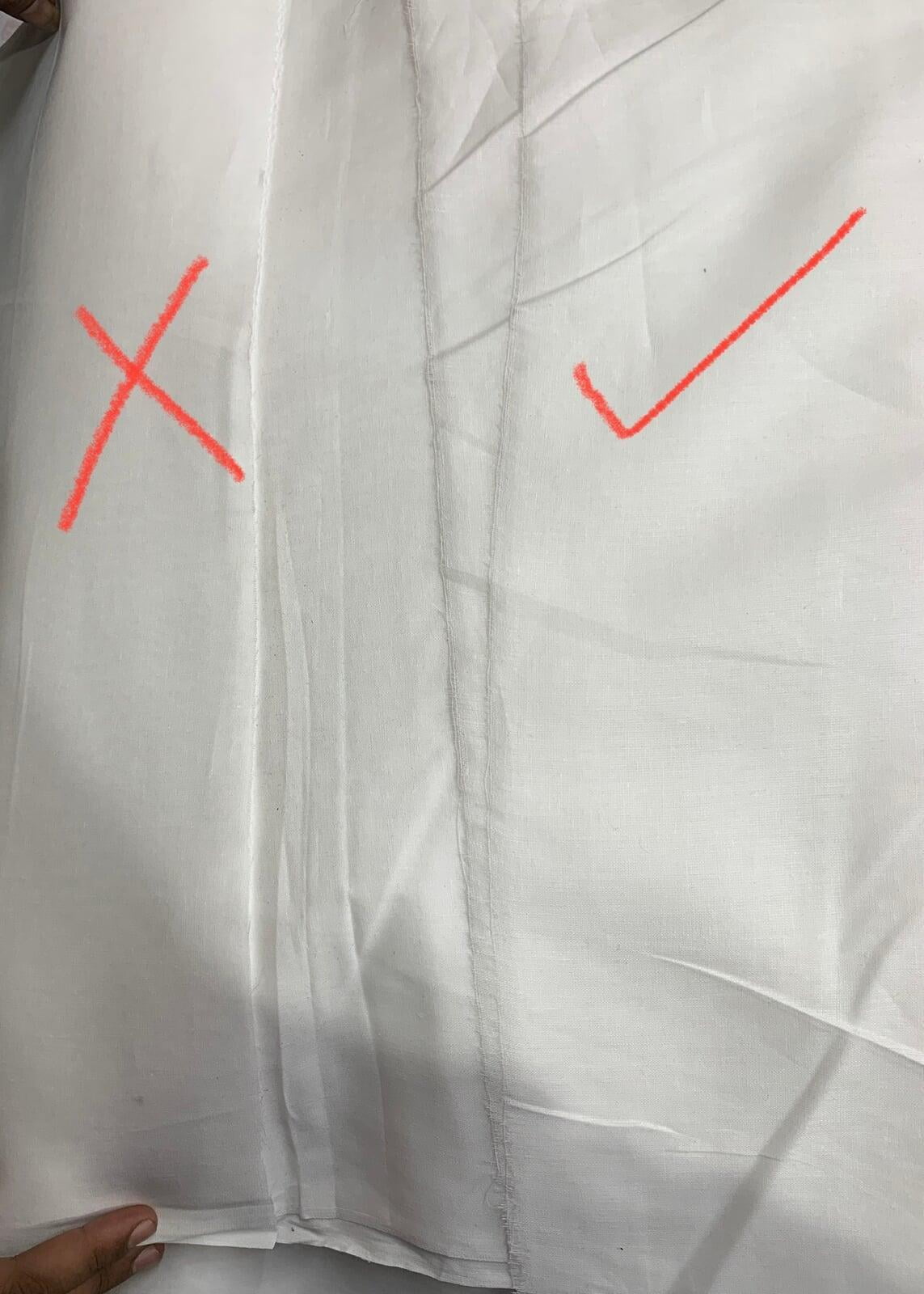 This is one of the frequently asked question that why the ends looked crooked also know as Kaan in Punjabi. Having experience of more than 25 years , the answer of this query is that we have to tear the turban with hand not by scissor because if we use scissor for cutting it will look straight aesthetically but the person will never be able to tie the turban from both sides. So turban have to be tear with hand and it will tear as per weaving of fabric of the turban, so it can be looked crooked line but person can tie it from both ends comfortably . Also the tailor who is doing stitching of the turban he/she should tear the turban fabric with hand during stitching as cutting straight with scissor will result in real kaan. So Never panic to see crooked ends as its normal and you'll be able to tie your favourite turban from both sides comfortably. But still if you want straight cutting by scissor your can opt this by telling us under special instruction box during checkout.
Do You Ship Internationally ?
Yes ! we ship all over the globe . Please check during checkout for your country . For more info visit 'contact us' page.
Which Items are eligible for international shipping
Due to international shipping compliances products eligible for shipping to other countries outside India will be Turbans, Patkas, Parnas Rumala & Chandoa Sahib and other items of Textile nature. Apart from these no other product can be delivered Internationally at this stage. So any order apart from these products will automatically be declined and refunded excluding shipping charges. For more info visit 'contact us' page.
What are the shipping charges for International deliveries
Please check it during checkout with your desired product as shipping cost is calculated as per order weight. For more info visit 'contact us' page.
Is there any custom charges for international shipping